Adaptive Search, innovation in the search for healthcare talent
.
Hiring the right talent for the right needs is one of the activities that contributes most to increasing a company's competitiveness.
Identifying the best talent and making it available to our business partners is part of our DNA. We will find the right talent for your company in the healthcare sector.
Adaptive Search is an innovative concept that encompasses from Direct Search (Executive Search for Executives and Headhunting for Middle Management) to Selection (other profiles).
It allows each of these services to be contracted individually, or to combine aspects of all of them à la carte, with the ultimate aim of offering a service that is truly tailored to the needs and expectations of companies, investing only in the service they need.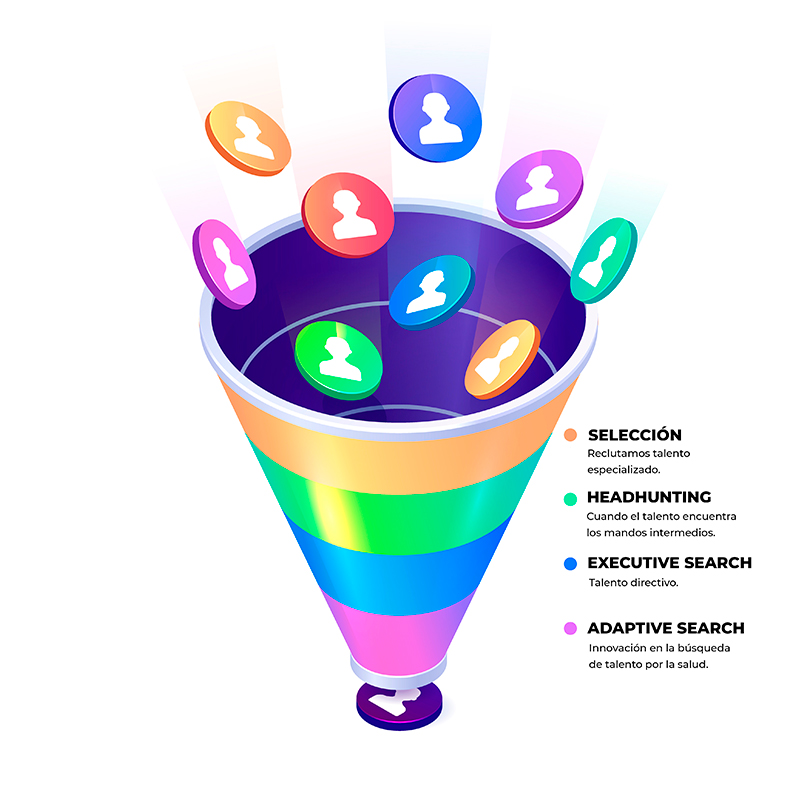 Why choose when you can have the best of each option. Different people, companies and situations are unique, which is why a flexible and scalable service like Adaptive Search, where you hire exactly what you need, is useful.
Executive Search
.
Executive talent.
The direct search for executives and managers is of great strategic value to companies. Through strict confidentiality, we identify and assess the right talent for the needs. We have an extensive network of high-level contacts, both at national and European level.
Headhunting
.
When talent meets middle management.
The direct search for department heads and specialised managers has a decisive impact on companies' operations. Thanks to our database of contacts and expert use of available 2.0 resources, we are able to attract the best candidates (national and international) to meet the needs of our business partners.
Selección
.
We recruit specialised talent.
We contribute to the success of our business partners by selecting the available talent and making it available to them in the shortest possible time. Through the efficiency that characterises our work methodology, we optimise selection time and make the companies' investment profitable.