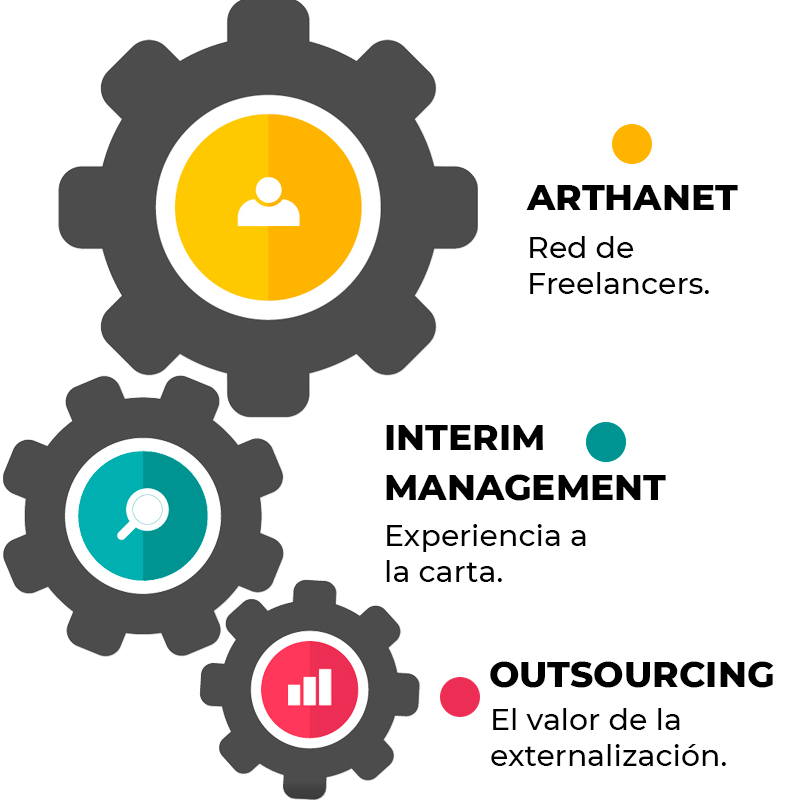 Temporary staffing needs
.
To meet the needs of companies short and mid term, when increasing the workforce is not an option.
When we do not have the resources to expand our company's workforce or the type of tasks to be carried out does not justify it, we provide companies with a complete Freelancer Network (ArthaNet). This solution offers maximum profitability, flexibility and efficiency when it comes to meeting your business objectives with solvency.
We offer services in the following scientific areas
.
Arthada has experience in different medical and healthcare sectors. We help you find the talent you need on a temporary basis.
Clinical Affairs
Clinical Development Plan
Development and implementation of clinical protocols.
Data management.
Blostatics.
Compliance
Ethical codes.
Risk Management Plan.
Liaison with the USD of Farmaindustry.
Liaison with regulatory authorities.
Medical Affairs
Marketing support.
Liaison with KOL's.
Meetings, Congresses and Advisory Broads.
Medical wirting.
Staffing $ Sourcing
Headhunting.
Insourcing.
Outsourcing.
Interim management.
Pharmacovigilance
Drug safety of products in clinical development.
Pharmacovigilance of marketed products.
Development of DSURs and PSURs.
Quality Assurance
Development and maintenance of the Quality Management System.
Development of SOPs related to clinical research and pharmacovigilance.
Audits.
Regulatory Affairs
Regulatory strategy in the EU and the US for chemical, biologic and advanced therapies.
Life cycle management.
Training
Scientific/Technical training to clinical research teams and sales force teams.
Training on crisis management.
Interim Management
.
A la carte experience.
For those needs related to management. Interim Management has operational and economic advantages compared to external consultants. The Interim Manager is directly involved in the management of the company's operations, is responsible for achieving the agreed objectives and does not increase the company's staff.
Outsourcing
.
The value of outsourcing.
For needs related to specialised tasks. Through the outsourcing service we carry out and manage activities or processes that may form part of most departments or functional areas of companies. Outsourcing is carried out with maximum legal security and provides a competitive advantage to our business partners.